With the average retirement age in the UK being reported as 64, the potential span in your workforce could be as much as 40 years, and sometimes more. We are all acutely aware that the needs and priorities of a multi-generational workforce will look different. Especially when you consider there are people entering the workforce who will likely live their life twice over before they retire!
In some areas, people will work into their 70's, so you could be looking at supporting:
Traditionalists or "Silent Generation" – born in 1944 and before
Baby Boomers – born between 1945 and 1964
Generation X – born between 1965 and 1979
Millennials – born between 1980 and 1994
Generation Z – born in 1995 and after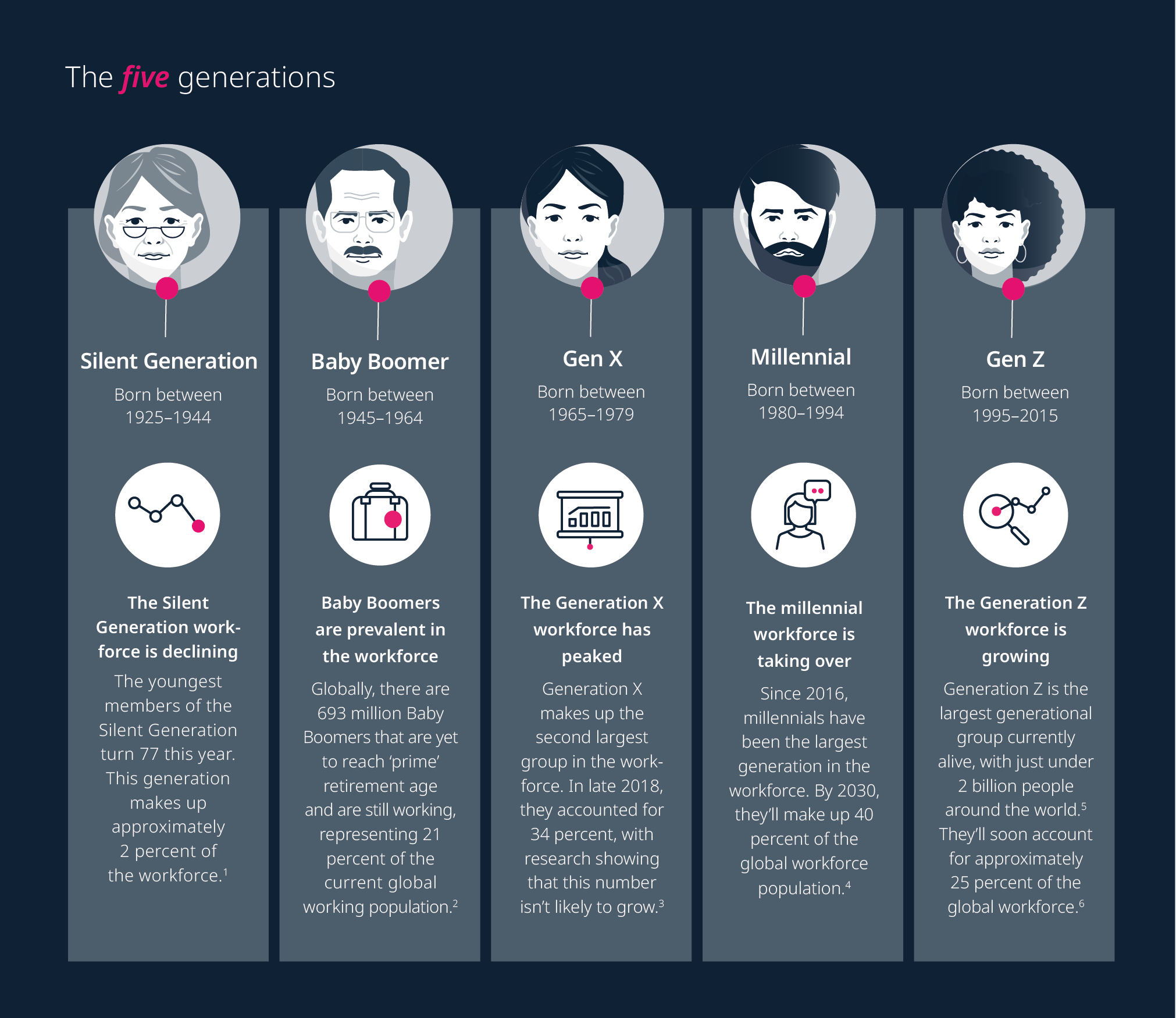 As well as this, there are different life stages to take into consideration:
Those living with parents
Renters
First time buyers
Parents
Carers – whether that's for a child, partner, or elder
Those preparing to retire
And what's more, a 2020 survey by Deloitte found that only 6 percent of our survey respondents strongly agree that their leaders are equipped to lead a multi-generational workforce effectively. This raises the question of whether traditional workforce segmentation approaches, anchored in generation, should remain the focus of future workforce strategies.
So, what can you do to help drive a culture that looks to meet the needs of the many? You can start by making sure the benefits your company offers, serve a multi-generational workforce.
#1 Let's talk pensions
It doesn't matter what age you are; you will need to have a private pension to make retirement as liveable (and hopefully comfortable!) as possible. In fact, it's obvious to say, the sooner you start, the better.
Start by making it habit to talk pensions in your regular communications. Whether that's HR newsletters, hosting lunch and learn sessions, or using the announcement tools in your employee benefits portal. Make sure that your teams know about their company pension, as well as any enhanced pensions your benefits may have to offer.
#2 Health insurance
According to Drewberry Insurance, 32% of employees want private health insurance. Making it second on the benefits wish list, only to flexible working. And yet, only 12% of employees are given this benefit.
It is important to check if there is a maximum age your health insurance provider will cover. This is usually between 65 – 80, but there are some available with no limits. You may want to look at different plans for different ages of employees. For example, there are some providers who specialise in over 50s.
Again, it's important to make sure your teams know:
How they can access their private healthcare plans
If they will need to pay an excess
Whether their partners and dependents are covered
That this is a confidential service
#3 Enhanced parental leave, and subsidised childcare is essential for talent retention
According to ONS, research between April to June 2019 showed that 75.1% of mothers and 92.6% of fathers with dependent children were in work. Further to that, childcare was found to be the reason that 28.5% of mothers (compared to 4.8% of fathers) worked fewer hours.
And yet with the current cost of living crisis we're facing, 1 in 4 parents had to cut down on heating, food and clothing to pay for the childcare provisions they need to stay in work.
As employers, what can we do to help? You might want to investigate whether the following options are appropriate for your teams:
Enhanced parental leave
Subsidised childcare allowance
Flexible working patterns for all parents (although in general, this is a highly sought-after benefit)
Sophie Forrest of ForrestHR, told HR magazine: "To attract and retain the best talent, companies will increasingly need to offer better packages that support employees' work-life balance holistically. Providing enhanced maternity and paternity leave beyond statutory minimums is an obvious strategy within a rounded package.

"Not only will this help you attract the best candidates, it's also likely to foster loyalty among your staff, reducing churn and the high costs of recruiting and training new staff."

"Enabling a well-supported leave and confident re-entry is one key piece in retaining talent, mitigating the gender pay gap, and fixing the talent pipeline leak," added Jennifer Liston-Smith, head of thought leadership at Bright Horizons.
#4 The four-letter word that carries most work-place stigma: DEBT!
Did you know that most people are more comfortable swearing at work, than they are discussing money? Debt is such a stigmatised topic, which often makes the situation worse due to lack of education about managing it.
We have previously written about financial wellbeing, and how 39% of adults don't feel confident with money management. We all know that this four-letter word can take over lives. So much so, that it is reported that over 420,000 people with problem debt consider taking their own life*.
Therefore it's so important to make your financial wellbeing benefits front and centre of your communications – in digital and print. It is crucial to make it clear to your teams that all benefits, in particular money management, and employee assistance programmes, are confidential. And another fantastic case for making your employee benefits portal accessible for use outside of the office.
Summary
In essence, the best thing you can do is check in with your teams and make sure that you know the benefits you are offering are worthwhile to them. Take advantage of our built-in communications suite to do this, such as our announcements banners in the portal, our email newsletter, and survey tools.
By communicating regularly with your multigenerational workforce, you can boost your employee engagement rate. Take our client Together Housing, for example. They have celebrated a 91% engagement rate since implementing their flexible benefits portal with us.
If you'd like to find out how we can help you provide a best-in-class flexible benefits package, and boost your employee engagement rate, why not book in a demo today.
*Trigger warning: this reference contains information about suicide that some readers may find distressing https://www.moneyandmentalhealth.org/financial-difficulties-suicide/